Top 10 Most Successful African Films Of 2018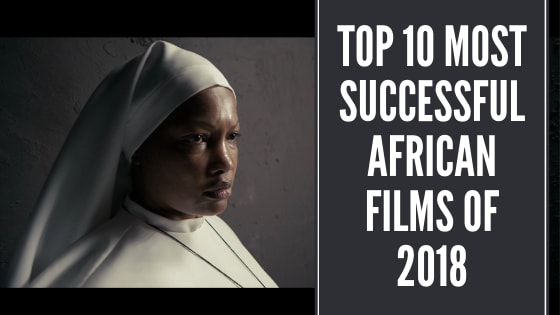 Festivilia is proud to present our 10 most successful African films of 2018. They have all gone on to achieve tremendous fame in film festivals all over the world. In no particular order, here are the list of films and their creators that made 2018 an amazing year!
LALO'S HOUSE by Kelley Kali (USA/Haiti/Benin)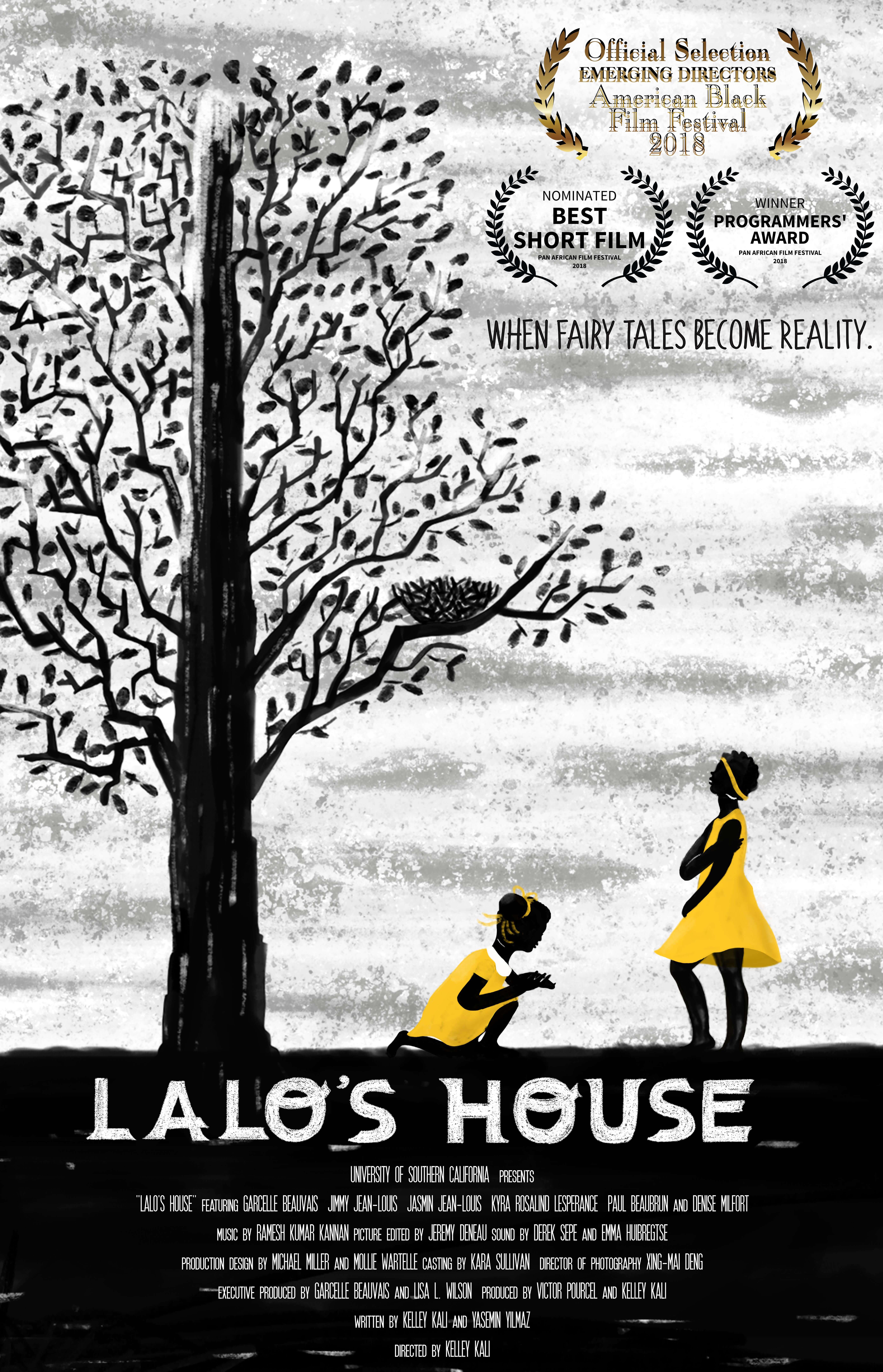 Lalo's House is a story about two Haitian girls,14-year-old Manouchka (Jasmin Jean-Louis) and her 5-year-old sister, Phara (Kyra Rose), who are kidnapped off the streets of Jacmel, Haiti and forced into an underground prostitution network which operates as a Catholic boarding school. Desperate to free her sister and herself, Manou hatches a dangerous plan to escape and find a path back home. Shot in Haiti and inspired by a true life story, the film addresses child and sex trafficking and exposes the hideous acts committed by so-called orphanages that are supposed to be a safe haven but rather is the exact opposite.
Lalo's House has screened at over 30 International film festivals so far including the 2018 Pan African International Film Festival, Los Angeleswhere it won the Programmers' Award for Best Short Film as well as the Best Actress and Best Director Award at the 2018 African World Film Festival. It won the Silver Tanit Award for Short Film at the 2018 Carthage Film Festival (JCC), Tunisia and the Best International Short Film Award at the 2018 Zimbabwe International Film Festival. It screened at the 2019 Luxor African Film Festival, Egypt and recently got into the 2019 Realtime International Film Festival, Lagos just to mention a few.
To crown it all, Lalo's House won the 2018 Student Academy Award for Narrative Short Film and was a top contender to be considered for the 2019 Academy Award nomination for Best Short Film but eventually didn't make the list.
Directed by Kelley Kali, an alumnus of USC School of Cinematic Arts. Kelley is passionate about using the art of film to focus on social issues within her local community and the world at large.
SUPA MODO by Likarion Wainaina (Kenya)
Tagged as the most important superhero film you will see in 2018, Supa Modo is arguably the most heartbreaking superhero film made. The film follows Jo, a young girl living in a small village in Kenya. It's her dream to become a super-heroine, but unfortunately, these ambitions are hindered by her impending terminal illness. As an attempt to make her desires possible the whole village is plotting a genius plan with the goal to make her wish come true.
The movie had its world premiere at the 68th Berlin International Film Festival and has gone on to screen at over 30 international film festivals. It has won awards at over half of the festivals it has screened at. It is also the Kenyan entry for the Best Foreign Language Film at the upcoming 91st Academy Awards.
The film is the directorial debut of Likarion Wainaina and was produced as part of the One Fine Day Films workshop-project, which gives African filmmakers the opportunity to learn from mentors and create their stories for an international audience.
I AM NOT A WITCH by Rungano Nyoni (Zambia/UK)
Featuring a cast largely made up of non-professional actors, "I Am Not a Witch" tells the story of a 9-year old village girl Shula (Maggie Mulubwa) who, after a minor incident, is suspected of witchcraft and sent to live in a camp for women accused of sorcery.
"I Am Not a Witch," world-premiered at the Cannes Film Festival's Directors' Fortnight in 2017, won the Best Feature Film Award at the 2017 Africa International Film Festival and has gone on to screen at some of the most prestigious film festivals in the world in 2018. The film also won the BAFTA Award for Outstanding Debut by a British Writer, Director or Producerfor Nyoni and producer Emily Morgan at the 71st British Academy Film Awards. It was selected as the British entry for the Best Foreign Language Film at the 91st Academy Awards, but it was not nominated.
"I AM Not a Witch" is the directorial debut of Rungano Nyoni. Born in Zambia and emigrated to Wales at the age of nine, Nyoni graduated from the University of Arts in London and has directed several short films. "I AM Not a Witch" won her the Breakthrough of the Year Award at the 2018 Evening Standard British Film Awards as well as the Best Director and Best Director Award for a first film at the 20th British Independent Film Awards.
HELLO, RAIN by CJ Obasi (Nigeria)
Arguably the most successful short film to come out of Nigeria in 2018, CJ Obasi's Hello, Rain is truly a masterpiece. The film is a story about three scientist witches who through a combination of juju and technology create magical wigs that grant them untold supernatural powers. As with everything, power corrupts and Rain, the leader finds herself in a confrontation with her friends, where she must stop them before they destroy the entire nation. Hello, Rain is based on Hello, Moto — an Afrofuturistic short story by World Fantasy, Nebula and Hugo award-winning author, Nnedi Okorafor.
Hello, Rain World premiered at the Oscar-qualifying International Competition of the International Short Film Festival (Kurzfilmtage) Oberhausen in May 2018, followed by a North American premiere at 2018 Fantasia Film Festival, Montreal where it won Special Jury Mention. Amongst several Festivals, It has played at the Southbank Center, London, the International Competition of Tabor Film Festival in Croatia, Black Movie Summer Festival in Paris, Africa in Motion Film Festival in Edinburgh and Glasgow, Film Africa in London, Lobo Film Festival and Phenomena Film Festival (where it received the Best Costume award)both in Brazil. Trieste Science+Fiction Festival in Italy and many other festivals. Hello, Rain has played at the 2018 BFI London Film Festivalwhere it was shortlisted for the prestigious Short Film Award.
C.J.'s directorial debut came in 2014 with Ojuju; a zombie thriller film. The movie was screened in various festivals around the world, including the Pan African Film Festival in Los Angeles and the Africa International Film Festival (AFRIFF) where it won the award for "Best Nigerian Film". It also got him the Trailblazer of the Year award in March 2015, at the Africa Magic Viewers' Choice Awards (AMVCA). He has gone on to write and direct two other films Including "O-Town" and "Hello Rain"
VERONICA'S WISH by Nisha Kalema (Uganda)
Veronica's Wish is an intriguing drama film that has gone on to shock the Ugandan Film Industry with its tremendous success so far. It tells the story of a couple Micheal and Veronica who are engaged to marry but their journey takes a drastic turn when Veronica gets hit by a mysterious illness. Its a story with a strong emphasis on love and commitment. Highly rated as one of the best drama films of recent times, Veronica's Wish hits the Ugandan Film Industry with a hard force and set another pace to the industry in the quest to give it the position it truly deserves.
It premiered in November 2018 and was nominated in 12 categories for the Uganda Film Festival scooping 9 major awards at the festival. Its awards include Best Costume, Best Cinematography, Best Screenplay for Nisha, Best Editing, Best Post Production, Best Sound, Best Supporting Male, Best Actress for Nisha, Best Director and the biggest award of the festival; Best Feature Film Award.
Veronica's Wish is Nisha's first film as a producer. It will begin its festival runs in 2019 and we have no doubt this film is going to be hugely successful.
Born in the Kampala suburb of Kawempe in 1993, Nisha Kalema attended the Buganda Royal Institute of Business and Technical Education graduating with a certificate in journalism and creative writing. She ventured into Acting shortly after and won her first award as an actress in 2015 at the Uganda Film Festival for her role as Grace in the film THE TAILOR.
THE RIGHT CHOICE by Tomisin Adepeju (Nigeria/UK)
The Right Choice is an extremely thought-provoking dialogue-driven film addressing the issue of race. The Sci-fi/Thriller short film follows a husband and wife who, with the help of an advisor, must answer three seemingly harmless questions to create their perfect designer baby.
The Right Choice had its World Premiere at the prestigious Sundance Film Festival in early 2018 making the list as one of the only 17 shorts selected for the International Narrative Short section out of a total submission of over 8000. It also screened as part of Sundance London in June 2018. The Right Choice has gone on to screen at over 20 International Film Festivals worldwide so far including several Oscar Qualifying film festivals such as the 2018 Hollyshorts Film Festival, 2018 Pan African Film Festival, Los Angeles and the 2018 Cleveland International Film Festival.
It had its African Premiere at the 2018 Africa International Film Festivalmaking Tomisin Adepeju one of the few filmmakers who has had his film nominated for the Best Short Film Award at the festival for 3 consecutive years.
Tomisin Adepeju is a Nigerian-British Filmmaker based in London, England. An alumnus of the 2018 Edinburgh Talent Lab, Tomisin is set to release his new short film Appreciation and currently working on his debut feature film; an adaptation of his award-winning short film, The Good Son.
BLACK BARBIE by Comfort Arthur (Ghana)
Inspired by personal experience and having first-hand knowledge of the negative effect skin bleaching can cause, Comfort made a film to address this topic with the hope to help tackle the issue head-on in Ghana and Africa at large. 'Black Barbie' is an animated account of her own coming to terms with the colour of her skin. She is not alone, for many young Africans find the option of lightening their skins too appealing, despite the health risks involved.
Black Barbie has screened at over 35 international film festivals in Europe, Middle East, Asia and Africa. it won the Best Spoken Word Film at the 2016 Real-Time International Film Festival (RTF) and Best Animation at the 2016 Ghana Movie Awards. It was nominated for the Best Animation Award at the 2016 Africa Movie Academy Awards (AMAA) and the 2016 African International Film Festival (AFRIFF). This film had its French premiere at the 2017 Annecy Animation Film Festival and had its Asian Premiere at the2017 International Festival of Short Films on Cultural Tourism in Jaipur, India. It also screened at the 27th edition of the Cascade Festival of African Films. Two years down the line, Black Babie is till making world rave. It had its Ugandan Premiere at the 2018 Amakula International Film Festival as well as its Netherlands Premiere at 2018 International Film Festival Rotterdam (IFFR).
British born Ghanian Animator Comfort Arthur has been nominated as Best Animator of the year for the Ghana UK-Based Achievement Awards (GUBA) 2017. She obtained a Bachelors degree in graphic design from Central Saint Martins and a Masters degree in animation from the Royal College of Art (RCA), both in London. She has worked on several award-winning films since moving to Ghana in 2012.
HAIRCUT by Koby Adom (Ghana/UK)
Set in a barbershop, Koby Adom's 2018 short Haircut was made through Film London's London Calling scheme and chosen by director David Yates for the London Calling Plus award. Haircut is a story about a middle-aged barber's dreams of escaping his rough area and becoming a Dancehall star, but an encounter with a local drug runner brings up uncomfortable truths about his past and makes him consider his importance in the community.
It had its world premiere at the 2018 BFI London Film Festival and has gone on to screen at some of the biggest film festivals majorly supporting the African film industry such as the 2018 Film Africa Festival.
Koby is a British-Ghanaian film writer/director who graduated from London Film School in 2016 with his graduation film 'House Girl', a short which raised over £10,000 on Kickstarter and screened at LSFF and AIFF. Since then, Koby has worked with Genesis Cinema and the BFI on the BFI Blackstar Season sitting on various panels. After being one of the John Brabourne awardees, Koby is now concentrating on preparing to turn 'House Girl' into a feature film, alongside working on shorts, commercials and music videos.
KYENVU by Kemiyondo Coutinho (Uganda/USA)
Marking the directorial debut of Kemiyondo, Kyenvu is an intriguing short film challenging Uganda's Controversial Mini-Skirt Bill. It tells the story through an independent young woman who lives through the taunts of using public transport on a daily basis. As she struggles to find her footing in a patriarchal society that entitles men to women's bodies, she finds love in a bittersweet moment.
It won the 2018 Pan African Film Festival (PAFF)'s Best Narrative Short Film Award thereby making history as the first Ugandan film to qualify for an Oscar! It also went on to win the Best Short Film Award at the 2018 Jozi Film Festival, 2018 Uganda Film Festival and the Best East African Talent Award at the 2018 Zanzibar International Film Festival. It won the 2018 Harness Social Impact Award of the NBC UNIVERSAL Film Festival.
Screened at over 20 International Film Festivals and has had a very successful festival run so far, KYENVU will be live on Hulu come 2019.
Kemiyondo Coutinho is a Ugandan playwright, actress and filmmaker based in Los Angeles. Coutinho is a theatre enthusiast and the founder and artistic director of the NUVO festival that addresses both social and artistic issues in Uganda. NUVO stands for New Voices and it is intended to draw attention to the issue of HIV/Aids. She has been featured on CNN's African Voices for her influential work in the arts.
RAFIKI by Wanuri Kahiu (Kenya)
Rifiki is a coming-of-age romantic LGBT film about two very different girls "Kena and Ziki" living in Nairobi housing estate. Disaster is eminent to happen when they fall in love and must now choose between love and safety in a country where homosexual activity is against the law. The film was based on "Jambula Tree" an award-winning short story by Monica Arac de Nyeko.
RAFIKI is the first Kenyan feature film to be invited to the Cannes Film Festival in 2018 as part of the Official Un Certain Regard selection.
The film is particularly interesting to note due to the numerous controversies that have surrounded it. It was banned earlier this year in Kenya in response to its LGBTQ narrative. After Kahiu refused to alter the film and sued the Kenyan Government, a Kenyan High Court granted a temporary lift to allow the movie to have a seven-day Oscar-qualifying run in Kenyan cinemas and was among the top contender for the Kenyan Entry for the 91st Academy Awards. It lost to Supa Modo by Likarion Wainaina. The film has been selected and screened at over 25 International film festivals so far. A few of its selection includes the 2018 Toronto International Film Festival, 2018 London Film Festival and 2018 AFI Fest, among others.
Wanuri Kahiu is a Kenyan film director, producer, and author. She has received several awards and nominations for the films which she directed, including the awards for Best Director, Best Screenplay and Best Picture at the Africa Movie Academy Awards in 2009 for her dramatic feature film From a Whisper. She is also the co-founder of AFROBUBBLEGUM, a media collective dedicated to supporting African art.